| | |
| --- | --- |
| | : - |
| | |
| --- | --- |
| | : Mevcut |
| | |
| --- | --- |
| | : Sanal Sürücü |
| | |
| --- | --- |
| | : Max Payne |
| | |
| --- | --- |
| | : 29 (200 MB) |
BJ99-WT2W-IDEV-2XWP-GDEV
EALU-FML8-V8QQ-2V8V-URLD
ZXUL-6NLW-S3FR-5S3V-VRLD
ECWW-EWVV-WWF2-6WWL-6RLD
9EJ2-CBXK-N2Z3-4N2F-8RLD
2VSS-XBAR-HMVE-HHM2-KRLD

İşletim Sistemleri: Microsoft Windows 2000, Microsoft Windows 2000 Professional, Microsoft Windows XP, Microsoft Windows XP Professional
İşlemci Hızı: 1.3 GHz
RAM: 256 MB (512 MB tavsiye edilen)
Boş Alan: 5 GB
Ekran Kartı Hafızası: 32 MB


| | |
| --- | --- |
| | This image has been resized. Click this bar to view the full image. The original image is sized 1024x768. |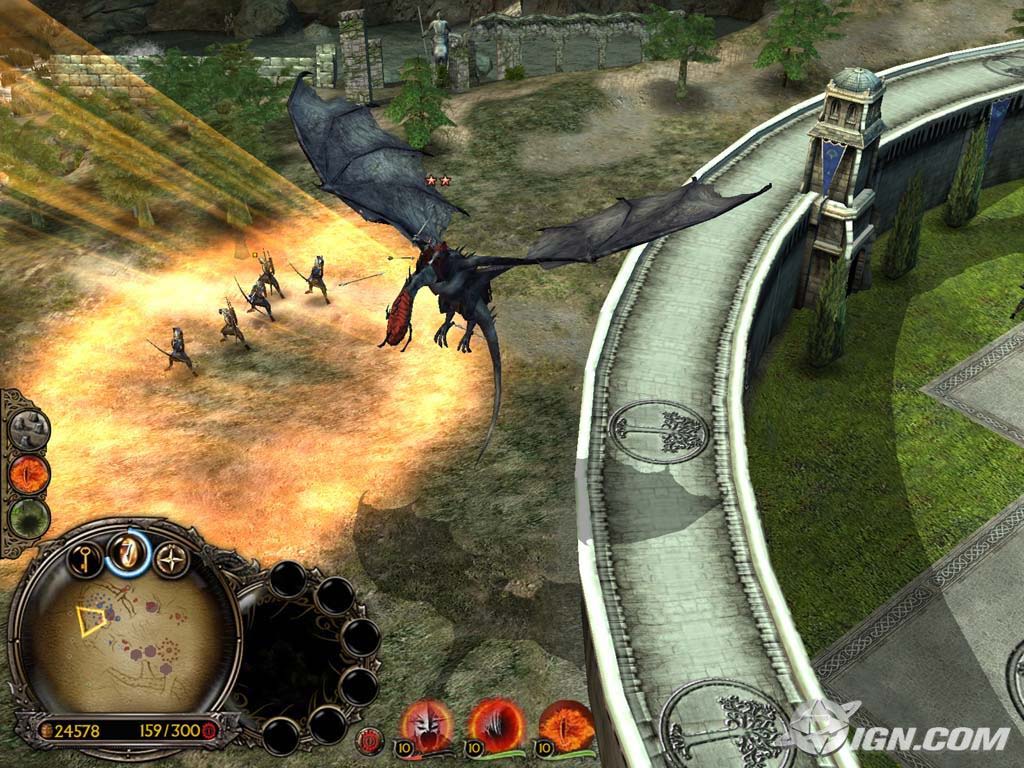 Son zamanlarda oyun menülerinin fonları oldukça dikkatimi çekiyor. Bu konuda geçtiğimiz günlerde piyasaya çıkan SW: Empire at War oldukça başarılıydı. Açıkçası BFME 2 ondan da başarılı! Muhtemelen oyun içi görüntülerin üzerlerinden biraz geçilerek hazırlanan arka plan, Yüzüklerin Efendisi serisinin bildik ezgileriyle beraber, tam manasıyla masalsı, beynin hayal gücünü kontrol eden kısmını canlandıran bir boyut kazanmış. Eğer fondan gözünüzü alıp, menüdeki fonksiyonlara bakacak olursak; Tutorials, Solo Player, Multiplayer, Options ve My Heroes seçeneklerini görüyorsunuz. Bunlardan biraz bahsetmek gerekirse, Tutorials oyunu öğrenme bölümü. Özellikle ilk oyunu oynamamışlar için mutlaka tutorials denenmeli. Aksi halde oyuna alışmak oldukça zor olacaktır. Multiplayer ile arkadaşlarınız ile Orta Dünya üzerinde parti(!) veriyorsunuz. Dilediğiniz haritayı seçip, ister Elf diyarında ister Goblin mekanında düşmanlarınıza Orta Dünya'yı dar ediyorsunuz. Options ile ayarlarımızı, özellikle performansa dayalı ayarları yapıyoruz. Menüde bulunan My Heroes ise önceki BFME'de de tanışmadığımız bir yenilik!

Aragorn, Legolas, Gimli, Gandalf... eskidi! Şimdi sıra bende!!

My Heroes'e tıkladığımızda Create a Hero ekranı açılıyor! Bu demek oluyor ki, kendi kahramanlarımızı yaratabiliyoruz! İlk olarak yaratacağımız karaktere sınıf seçiyoruz. İnsan mı, Elf mi yoksa başka bir tür mü olacağı burada belli oluyor. Oranın hemen aşağısında ise seçtiğimiz türe göre tipler açılıyor. Kadın-Erkek gibi ayrımları buradan yapabiliyoruz. Hemen sonraki ekranda ise görsel özelliklerimizi ve Orta Dünya tarihine yazdıracağımız ismi yazıyoruz. En aşağıda kullanacağımız renkler bulunuyor. Onları da seçtikten sonra kahramanımız Orta Dünya'nın destansı öyküleri atılmak için hazır hale gelmiş oluyor! Bu yeni özellik belki de Orta Dünya'yı kahramana boğacak ancak oyuncular için güzel bir eklenti olmuş My Heroes. Böylelikle savaşlarda kendimizi geliştirmeye çalışırken, oyundan daha fazla RPG tadı alabiliriz.

Geldik Solo Play'e. Yapımla ilgili en gerçek yargılara buradan ulaşacağız. Solo Play'in üzerine geldiğimizde açılan menüde, Load Game haricinde 4 tane seçenek var. En üstten anlatmaya başlayalım. İlk olarak karşımıza Skirmish çıkıyor. Strateji oyunlarında sıklıkla karşılaştığımız Skirmish mod'u, ne eksik ne fazla bir şekilde BFME 2'deki yerini almış. Kendi haritamızı seçiyoruz, savaş alanındaki ırkları belirliyoruz, kimlerin düşman kimlerin dost olacağına karar veriyoruz ve oyuna başlıyoruz. Yani her kuralın size ait olduğu bir oyun stili Skirmish. Hikaye mod'larından tamamen ayrı.

Sıra tabanlı mod!

Oyunun mod'ları arasında War of the Ring'i görünce şaşırdım. Başta Yüzüklerin Efendisi için hazırlanan ilk strateji oyunu War of the Ring ile bağlantısı olabilir mi diye geçirdim aklımdan. Ancak tıkladığımda, o son derece başarısız oyun ile hiç bir bağı olmadığını gördüm. War of the Ring mod'u, oyuna masaüstü öğeler ekliyor. Yani bir haritamız var. Haritada şehirler gözüküyor. Hangi şehirde hangi ordu var görebiliyorsunuz. Sıra tabanlı olan bu bölümde sizden istenen, düşmanlarınızı yok etmeniz. Ancak eğer onlarla aynı sınırda yaşamıyorsanız, önünüze çıkan şehirleri ele geçirmelisiniz. Bunun için de ordu yaratmalısınız. Evvela işe kaynak ve asker çıkartmak için bina yaparak başlıyorsunuz. Tabi bu bölüm sıra tabanlı olduğu için beklemek zorundasınız. Bir seferde yapacağınız tüm hamleleri yaptıktan sonra "turn" tuşuna basarak, hakkınızı tamamlayıp sırayı rakibinize veriyorsunuz. O da tüm hamlelerini yapıyor ve tekrar sıra size geliyor. Tabi bina veya asker üretimi gerçek zamanlı oynanıştaki gibi sürekli devam etmediği için, örnek olarak her turda %25 (yaptığınız binaya veya askerin niteliklerine göre daha fazla veya az da olabilir.) tamamlanıyor. Bu sıra tabanlı oynanış ta ki, düşman ile sizin aynı topraklar da buluşmanız ile son buluyor. Bu sefer bildik, savaş haritası açılıyor ve RTS'ye dönüyor oyun. Burada size yardım etmeleri için birlikler geliyor ancak bölüme göre kimi zaman 20 dakika sonra geliyorlar. Sizde bu 20 dakikayı, düşmana mağlup olmadan tamamlamaya çalışıyorsunuz. Ardından takviye kuvvetleriniz gelince işler biraz daha yoluna giriyor.



YOK



Aynı serilerdeki Netload, Rapidshare ve FileFactory bağlantıları aynıdır.. Aynı serilerdeki partları karışık indirebilirsiniz.. Örnek : Part1'i rapidshare Seri 1 bağlantısından indirdiyseniz, part2'yi Netload seri 1 veya Filefactory Seri 1 bağlantılarından indirebilirsiniz..
©Copyright FullOyun & Since 2003

█║▌│ █║▌ ║││█║█║
---